FriendShip Rewards
Car Wash Members Save More!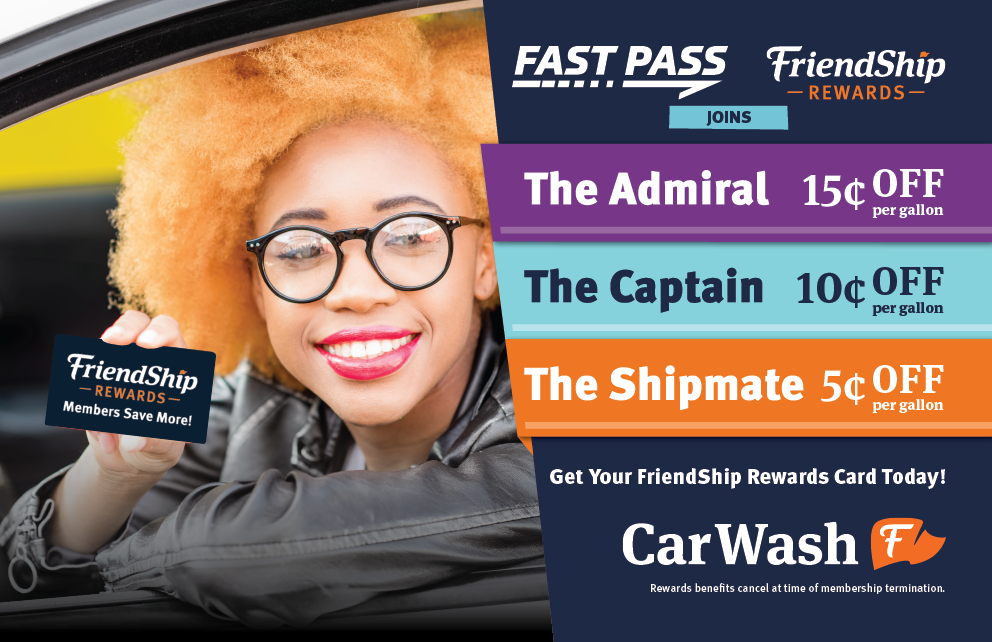 Clean and Fuel Up with the Car Wash Rewards Program!
As a Fast Pass member, enjoy discounts on fuel at any of our gas stations.
Sign up as a "Shipmate" and receive a $0.05 per gallon discount
Upgrade to "Captain" for a $0.10 per gallon discount
Reach the top level "Admiral" for a $0.15 per gallon discount
These discounts will be added to your account each week and will expire 30 days from the date of issue.
Take advantage of this new offer and start saving more with ease. In addition to fuel savings, redeem your rewards for discounted products in-store. Plus, as a member, you'll receive exclusive promotions and offers throughout the year.
Join the program today and enjoy a clean and fueled up ride!
FriendShip Rewards
It's So Easy to Save More!

It's so easy to save. Become a member and enter your phone number, use our app or swipe your card whenever you make a purchase.
Fast Pass Unlimited Memberships
Enjoy the Safest Car Wash and a Cleaner, Shinier Vehicle!

Unlimited Fast Pass starting as low as $21.00/month. Also available, Wash Books.